#MicroblogMondays 43: Public Pet Peeves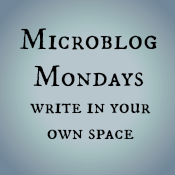 Not sure what #MicroblogMondays is? Read the inaugural post which explains the idea and how you can participate too.
*******
Last weekend, we went to the beach for the day. The experience reminded me why I like to go to the beach mid-week during high season.
Beyond how crowded it is on the weekend, there were two types of things that annoyed me that I rarely encounter during the week. The first was the breaking of established rules where the activity affected other people. For instance, smoking on the beach. We ended up moving two times due to smokers.
The other was more slippery: playing music on the beach. As far as I know, there isn't an established rule against playing music without headphones. But we all know that it is annoying unless the person blasting the music happens to have inadvertently chosen music that you also enjoy. I'm sure those people wouldn't want to hear my music, and I certainly didn't want to hear their music. But I had to hear their music because they decided to play it aloud.
I feel that way about cell phones in cars — it's breaking an established rule that is there to protect other people — and perfume — not a rule but certainly annoying and affecting others when a person wears too much in public.
The answer is, obviously, to never leave my house.
What are your pet peeves in public spaces?
*******
Are you also doing #MicroblogMondays? Add your link below. The list will be open until Tuesday morning. Link to the post itself, not your blog URL. (Don't know what that means? Please read the three rules on this post to understand the difference between a permalink to a post and a blog's main URL.) Only personal blogs can be added to the list. I will remove any posts that are connected to businesses or are sponsored posts.