#MicroblogMondays 42: My Fur Baby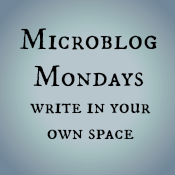 Not sure what #MicroblogMondays is? Read the inaugural post which explains the idea and how you can participate too.
*******
Truman got a cold. I was sitting down to a very stressful plate of work when I heard him sneeze several times. I turned around and snot was coming out of his nose. He politely wiped it away with his paw.
I decided to clean his cage before I started working. Midway through cleaning the cage, he started wheezing. He wasn't wheezing so hard that he couldn't go after a cookie I hid at the top of the stairs in his playpen. But wheezing nonetheless.
I called the vet feeling a little foolish because… you know… it was a cold, right? But the vet told me to bring him in. When I got in there, I started sobbing because I was so scared that it was going to be like Cozy. Out of context, I'm sure I looked like a lunatic, crying over the fact that my guinea pig was sneezing. But… what if?
I went home with medication for his upper respiratory infection. He's totally himself personalitywise, just with a runny nose.
I said it with Cozy and I'll say it again: "It doesn't matter how small you are; you can still be deeply loved."
Do you have a pet you fret over and love intensely?
*******
Are you also doing #MicroblogMondays? Add your link below. The list will be open until Tuesday morning. Link to the post itself, not your blog URL. (Don't know what that means? Please read the three rules on this post to understand the difference between a permalink to a post and a blog's main URL.) Only personal blogs can be added to the list. I will remove any posts that are connected to businesses or are sponsored posts.