#MicroblogMondays 41: Walking Away From a Project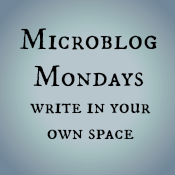 Not sure what #MicroblogMondays is? Read the inaugural post which explains the idea and how you can participate too.
*******
Sibyl Moon Games had a post a while back about deciding to leave a game unfinished.
She writes so perfectly: "Creative work is a gamble. Each time you sit down at your computer – or your notebook, or your easel, or whatever the tools of your specific pursuit may be – then you're betting you can capture something from your mind and convey it to your audience's."
She goes on to admit that part of being a game-maker (or a writer or an artist or an actress or a musician) is also knowing when to walk away and commit your energy elsewhere. Not every idea will be brought to fruition, and not every project started will be completed.
How do you prioritize where your creative hours go? Have you ever had to walk away from a project and did doing so create space for other work?
*******
Are you also doing #MicroblogMondays? Add your link below. The list will be open until Tuesday morning. Link to the post itself, not your blog URL. (Don't know what that means? Please read the three rules on this post to understand the difference between a permalink to a post and a blog's main URL.) Only personal blogs can be added to the list. I will remove any posts that are connected to businesses or are sponsored posts.