#MicroblogMondays 40: Happy Last Day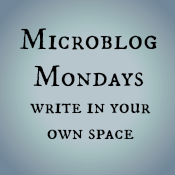 Not sure what #MicroblogMondays is? Read the inaugural post which explains the idea and how you can participate too.
*******
It's sort of amusing that this is the 40th MicroblogMonday because today is also my last day being 40. Tomorrow I turn 41, and you might as well save your birthday wishes until then because today is about still being 40. I am 40, damnit, and don't make me age before I'm ready.
The last day of a personal year (as opposed to the calendar year) is so bittersweet because you know that you can't slow time. You know that tomorrow you will wake up and be an entirely new age. And that is odd, you know, the idea that I will describe myself differently tomorrow.
Tomorrow will be for birthday celebrations. Today is a last day celebration.
What is the perfect way to spend a last day? What would be your ideal last day before a birthday?
*******
Are you also doing #MicroblogMondays? Add your link below. The list will be open until Tuesday morning. Link to the post itself, not your blog URL. (Don't know what that means? Please read the three rules on this post to understand the difference between a permalink to a post and a blog's main URL.) Only personal blogs can be added to the list. I will remove any posts that are connected to businesses or are sponsored posts.