Back to School
So this past weekend, Josh and I drove out to his old college in Iowa. Yes, you read that correctly. We drove. It seemed like a brilliant idea at the time. Hop in the car, zip across to the Midwest, maybe even stop at some other locations and reminisce about our college years in the middle states.
My heart died somewhere near Chicago.
Somewhere near Chicago, my heart died in my chest when I looked at the odometer and realized how much longer we had until we arrived. I started inwardly wheezing like the Little Engine That Couldn't. I know I can't I know I can't I know I can't.
But we did. And a little after 11 pm Iowa-time (midnight back home), we rolled onto the Grinnell campus and collected our keys and registration. We unpacked the car and moved ourselves into a dorm room as if we were eighteen-year-olds, giddy to be away from home for the first time.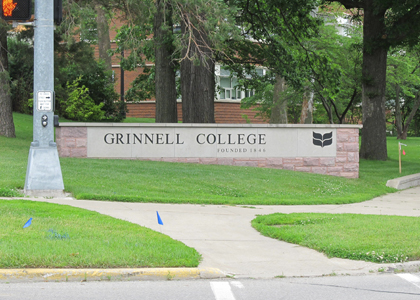 *******
We stayed in a dorm. I realized about five minutes into the experience that I am too old for a dorm. I am too old for a rickety bed that creaks every time you move. (How do these kids have sex?) I am too old to schlep my toiletries down the hall to the lightless bathroom and pee in a metal-walled stall. I am too old to listen to people talking outside my window or in the hallway at 2 am. I am like… so so so old. I couldn't even. (See, I can now speak like a Millennial.)
I luckily didn't find the cockroaches until our last morning.
On the second day, I went back to the dorm room for a bit and overheard a conversation in the hallway about a bat that had been flying around our floor the night before. A bat? Did someone say a bat?
I tried to get more information about said bat for the rest of our trip, but no one else seemed phased by the bat. I would be standing in line, chatting with someone, and I'd smile and say, "Hey, what do you know about the bat that was in Younker?" And they would reply, "Oh, yeah, there was a bat. What else have you guys been doing today?"
I really wanted to bring it back to the bat. Because did the person realize there had been a bat?
I am too old for bats.
*******
It was my first trip to Grinnell. It is a beautiful campus. It's small. Like it's really really small; Josh's college was the size of my high school, and my college could have eaten Josh's college as an appetizer.
There was a dining hall called Quad that made my heart ache — it looked like the Great Hall in Harry Potter. And there was a coffeehouse in the basement of a set of dorms where we listened to his old professors play bluegrass music. There were study nooks everywhere, and a junglegym of carrels in the library. (In fact, if you Google "study carrel junglegym," a picture from Grinnell's library pops up.)
And then there were all the new buildings; a shiny student union, and a beautiful science center, and a sports complex. It was this mixture of modern and haimish; the sort of place where you wanted to meet someone and hang out on the lawn. Or read a book, tucked away in a squashy chair in a wood-floored room.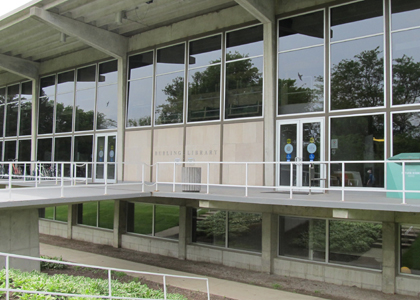 *******
I guess what struck me the most were the people. Yes, I was arriving with Josh, this known entity, but I sort of had the sense that if I had shown up without him and attended reunion in his place, everyone would have embraced me in the same way. They were that kind and friendly.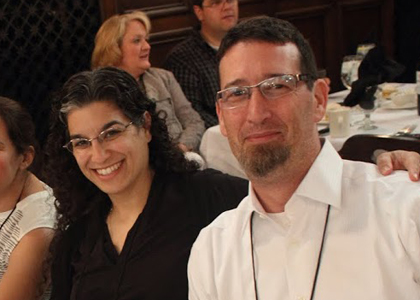 It was clear how much the people he knew from there loved him, and how much he loved them back. Many he hadn't seen in over 20 years. I loved seeing him so loved. I know that I should reach for a more descriptive word than loved, but that's just it: I loved seeing him so happy. I loved seeing him moved by being in this place with people who are really important to him. It was so comfortable; so relaxed. It made for a very easy weekend as well as hard to say goodbye.
*******
But at the end of the weekend, we had another 15 hour drive home; this time with rain. A heavy downpour followed us through several states, and it was nerve-wracking going the last 200 miles. But we made it home and collapsed into bed.
I have a few last thoughts but this post is growing too long, so I'll end it here and ask if you have been back to your old school — college or otherwise — and whether it was for reunion or simply a visit to the campus. I have a theory with this one.
Thank you, Dorje, for the photo from dinner.