#MicroblogMondays 36: Doppelgänger!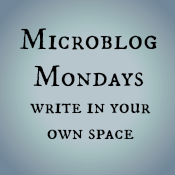 Not sure what #MicroblogMondays is? Read the inaugural post which explains the idea and how you can participate too.
*******
So these three people set off to find their doppelgängers via social media in a project called Twin Strangers. They posted pictures of themselves and then attempted to harness the power of the Internet by having people submit images of people they knew who looked like the subjects.
So it would be like me posting a picture and asking all of you to either submit a picture of someone you know who looks like me, or pass along my picture to people in your social media accounts to see if they know someone who looks like me or pass along my image to their social media contacts. So on and so on.
The woman in the project found her doppelgänger living an hour away.
The project site states: "They say there are 7 people in the world who look exactly like you… We want to find OUR Twin Strangers."
So… would you want to find your doppelgänger? Or do you like the idea of looking different from everyone else? (This is obviously a moot point for some identical twins.)
*******
Are you also doing #MicroblogMondays? Add your link below. The list will be open until Tuesday morning. Link to the post itself, not your blog URL. (Don't know what that means? Please read the three rules on this post to understand the difference between a permalink to a post and a blog's main URL.) Only personal blogs can be added to the list. I will remove any posts that are connected to businesses or are sponsored posts.