Kitchen Impossible
It's Mother's Day, but you don't want to read one more thing about Mother's Day, do you?  Either you're not celebrating Mother's Day and you don't want to hear about someone else's Mother's Day, or you're estranged from your mother and hate the holiday, or your mother has died and this holiday makes you ache for her, or you're celebrating Mother's Day and not reading this until after the fact, or, or, or… well… there are a dozen of other scenarios, but the point is that the commercial world made us sick of talking about Mother's Day by March.
So… what more to say on the holiday?  If you're not celebrating it, I hope you're doing something kind for yourself today.  And if you are celebrating it, good on you.
And if you want a distraction, here it is.  The kitchen is done-ish.  It's done in the construction sense (with the exception of one light fixture).  I like it very much.  I like the clean, white cabinets.  I like the brown countertops.  I love the drawer pulls — you guys were so spot-on that if I had gone with another design, I would have always thought about the twig ones and regretted that I didn't splurge and go for it.  I like having a sink again.  I especially like having a sink that isn't falling apart.
I dislike the drawer that I told the man I would dislike, and he promised me that I would love, love, love.  (Turns out, I was right.)  And I dislike how I feel as if I need to move gingerly through the kitchen lest I scuff it up in the first week.
Now comes the fun part: decorating it.  This will take me a bit because I'm behind with work.  So more pictures will be forthcoming when I have my little golden snitch hanging from the ceiling.
But the best part of the kitchen?  The little bookshelf.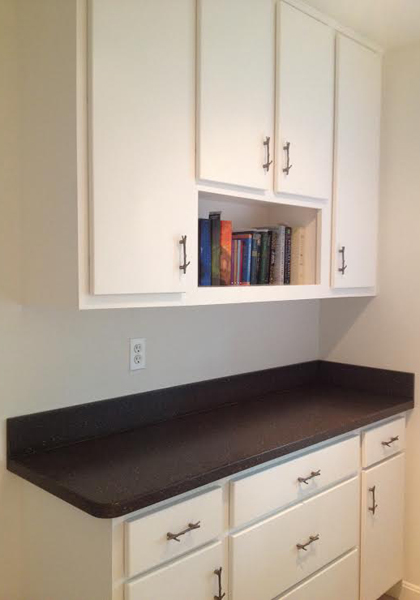 It only has room for about 20 or 30 books.  Which means that books may need to be rotated.  But right now, I have a bunch of books in place that are all tied to the literary decorations (like the 7 keys that will be hidden around the kitchen for Fillory, or the Deathly Hallows above the kitchen table for Harry Potter).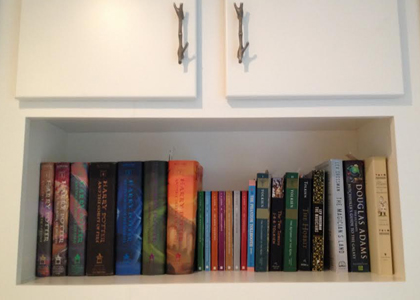 The books make me smile.  I had two minutes while I was waiting for something to cook, and I grabbed down the Magician's Nephew and reread the first few pages.  I love that.
Side note: Tomorrow is #MicroblogMonday.  Get working on your post.