Forgiveness
This past winter, I read an article about forgiveness that has stuck with me for months, rippling through me like a stone dropped into a lake.  A warning; the article begins with a description of a murder which may be a trigger for some people.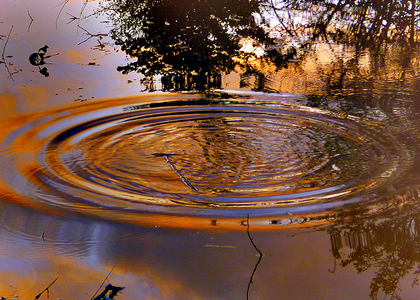 Image: Jayt74 via Flickr
The author gives the steps of forgiveness, a how-to guide for the act spelling out the acronym REACH:
First, you "recall" the incident, including all the hurt. "Empathize" with the person who wronged you. Then, you give them the "altruistic gift" of forgiveness, maybe by recalling how good it felt to be forgiven by someone you yourself have wronged. Next, "commit" yourself to forgive publicly by telling a friend or the person you're forgiving. Finally, "hold" onto forgiveness. Even when feelings of anger surface, remind yourself that you've already forgiven.
In the case of the murder, the son needed to go through the act of forgiveness without knowing whom he was forgiving.  The killer was never caught.  The son forgave the killer not for the killer's sake but his own, deciding that the anger he would carry over his mother's death would hurt more than the act of forgiveness.
I don't know if you can measure emotional pain like that.  I think we can convince ourselves that the act we choose will be emotionally less painful, but I don't know if it is in actuality.
Or maybe I'm just saying that because I would have chosen the other route of non-forgiveness.
*******
Maybe the reason the article stuck with me is that it set up forgiveness as an either/or situation.  Either you forgive, or you carry with you anger and a desire to seek revenge.  And I don't think that's always the case.
There's a third road, one where the person simply… stops.  They refuse to participate in a situation that is damaging.  Someone treats them poorly and they decide not to forgive them but they also don't seek revenge.  It's the snipping of the cosmic scissor, cutting yourself off from the person who wronged you and not giving them mindspace or heartspace.  You just don't consider them anymore, and you certainly don't spend mental energy plotting out revenge.
I don't think it's healthier or more dangerous, emotionally, I just think it's another path the author didn't consider.
*******
Of course, my third path assumes that you don't need to have daily contact with the person.  I don't think it would work in a marriage.  Part of snipping the cosmic scissor is that if you need to have regular contact, you hold the personally at arm's length, emotionally.  I don't think you can have a marriage work if the people have their arms up, pushing the other one away.
*******
There was another line in the article that gave me pause:
"The power to grant forgiveness (and its benefits) rests with victims."
And I guess the question I had was that victimhood is in the eye of the beholder.  There are situations where the other person believes I'm the one at fault, and I believe they're at fault, so who is the victim?  In the murder case, the victim (the woman, and by extension, her son) is clear — at least, to me — but in most arguments, the fault is less clearly defined.
In that way, it seems a little self-centered that the person gets to determine their own victimhood rather than consider the pain they've given others.  That this comes from an angle of granting forgiveness rather than asking for forgiveness.
I mean, can the murderer claim his own victimhood in that case and say, "you know what, I forgive that old woman for startling me during the robbery and turning me into a killer.  It's awful to live with the thought that I took someone's life, and she put me in this terrible position.  I am going to release my anger towards her."
His anger towards her!
But technically, in this definition, we allow each person to determine their own victimhood when we allow each person to determine whether or not they wish to forgive.
Maybe it's a matter of culture; I come from a religion that has more of an emphasis of asking for forgiveness (we have a whole holiday set up for that purpose!) rather than forgiving.  Yes, you are also supposed to absolve people of their sins when they ask you for forgiveness, and you are even supposed to forgive people without them asking, but the emphasis is much more on asking forgiveness for our own wrongdoing and unfulfilled promises than it is on granting other people forgiveness for their trespasses.
It's two sides of the same coin, but maybe recognizing the role I play in affecting others sits better with me than making the assumption that the other person understands their wrongdoing and wants to be released with forgiveness.
*******
Though the article first pauses to point out all the negative effects non-forgiveness has on your health (as well as your ability to jump), the article touches on the fact that forgiveness is not always the best course of action.  That sometimes it is healthier not to forgive another person.  That we can equally do emotional damage to ourselves by always forgiving.
It makes it difficult to know how much and when.
*******
The article ends with another sad scenario, one that loops the discussion to the only type of forgiveness I truly believe needs to happen, and that is the act of forgiving ourselves.
There is no cosmic scissor we can use on ourselves; no way to neatly divide ourselves from ourselves.
We will mess up — sometimes we will mess up hugely and sometimes we will simply hate ourselves because we couldn't do anything to stop a situation — and we need to find a way to live with ourselves.  And that I think is worth the hard work of forgiveness.  That is a situation, because we can never have space from ourselves, where it would be worse to continue to let those feelings fester rather than atone and forgive ourselves.
And that begins with apologizing, even if your apology cannot undo what you've done.
*******
The article never touches on the saying that I've always struggled with the most: forgive and forget.
What does forgiveness even mean when it comes to the huge transgressions?  How do you authentically carry on and build a relationship with another person after you've granted them forgiveness?  The small stuff — of course, I don't remember all the small fights or wrongdoings.  But the big stuff?  How do you ever forget it?  And is it authentic if you only pretend to forget, if the act itself is always in the back of your brain, informing future decisions?  Because how can it not?
Maybe I just struggle with the concept of forgiveness.  It takes a lot to upset me; I mean, a lot a lot a lot.  So if you've gotten me to the point where I am that upset that an apology is in order, and the person has done nothing to try to try to remedy the situation, it is a very difficult idea to leap off that platform into forgiveness since the platform is set pretty high in the air.
Do you know what I mean?  There are just very few occasions in my life where I want an apology or I am carrying any lingering frustration with me, but once I have reached that place, it almost stands to reason that working my way back down the ladder towards forgiveness is going to take a very long time, indeed.
How do you do with forgiveness?  Do you find it easy to grant it?