A Few of My Favourite Things
It's time for another edition of a few of my favourite things because I've fallen in love with a yogurt bar. "Well, Melissa, why don't you marry it if you love it so much?"
How do you know I haven't?
I haven't… yet.  But that doesn't mean that I wouldn't consider it.  At the very least, I keep multiple boxes in the house at all times.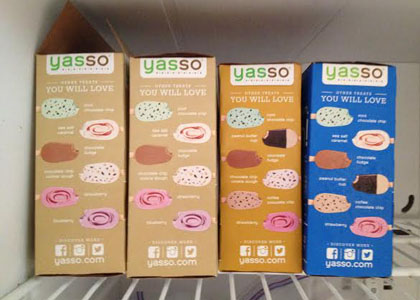 I passionately love Yasso bars for three reasons: (1) they taste good, (2) they are only about 100 calories per bar, and (3) they have 5 grams of protein per bar.  Which means that they're not exactly terrible for you.
At least, that is what I tell myself to feel okay if I eat a second one.
My favourite flavour is coffee chip.  My second is cookie dough (which is odd because I would never dream of eating cookie dough ice cream).  I want to find the chocolate fudge ones, but I've been to three different grocery stores and still have never seen them.
So good.
*******
I recently bought myself A Sailor's Dream as a present for completing a task.  I knew it was going to make my heart ache, but… oh my G-d, the drawings with the music: it is one of the most gorgeous games of all time.  There is no winning or losing.  Just exploring.  I allow myself one tiny section of the game per night and explore every centimeter of it.
The best part about the game is that new things pop up over time, so you can think you saw everything and then go back and see new stuff there.
Best game I've played in a while.
A close second is the new chapters in Monument Valley.  They're an in-app purchase.  Well worth the money.  I allow myself to play one level of that every night, too.
*******
My love of Lev Grossman's Magicians trilogy is well known, but I am excited to see it turned into a Syfy series.
Okay, I'm a little fearful, too, because with the exception of Quentin, no one looks like how I picture them in my head.  And if Alice doesn't look Alice-y enough for me, it may stop me from watching.  But I'm excited to give it a try.
Because I love magic.
*******
Our family has gotten hooked on Welcome to Night Vale.  Sometimes we listen around the kitchen table, eating dessert.  Sometimes the ChickieNob and I crouch together on the steps near the baseball field and listen to it while the boys practice.  Sometimes we lay in bed with the phone between us, staring at the ceiling while Cecil Baldwin tells us the day's news.
We often quote from it or talk about the characters as if they're friends of ours, living in another dimension within our tiny town.
What are a few of your favourite things?