The Empty Kitchen
I took down the art work in the kitchen in preparation for the renovations, which will start soon.  It feels really really weird.
It reminds me of the night we moved in, when I didn't know where anything was, and nothing felt familiar.  I sat on the kitchen floor and called my best friend and sobbed that moving had been a mistake.  It obviously hasn't been a mistake, and I stopped saying that once I found a home for my dishes.
But it felt like a mistake in that moment because the kitchen felt like such an alien space.  But moreover, we had these empty bedrooms upstairs, and I felt like my house would never feel like a home because it would never be filled with the people in my brain who made up my imaginary family.  Do you know what I mean?  I didn't just want to know where my stockpot was.  I wanted the inhabitants of the house to match the dream-family in my head.
Which was a task that was a lot more difficult than unpacking.
I'm excited to have a pretty kitchen, and I'm definitely excited about the literary decorations.  (And, yes, pictures are forthcoming.)  But I'm really going to miss the art work and the way the art work made me feel.  It was the opposite of that first night in the kitchen when I sobbed about all the unknowns.
I leave you with the first of the very important decorative decisions: The drawer and cabinet handles.  They're silver twigs!  They pull together the racing brooms in Harry Potter and the beaver dam in Narnia and the Ents from Tolkien and Fillory.  Twigs!  The common literary denominator.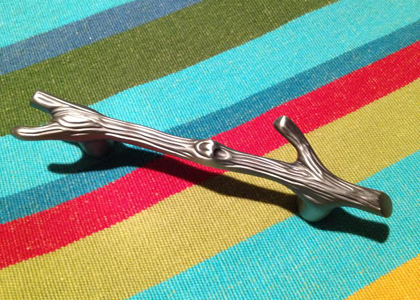 Totally off-topic, but tomorrow is #MicroblogMonday.  Get writing.