#MicroblogMondays 35: Lost Items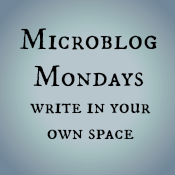 Not sure what #MicroblogMondays is? Read the inaugural post which explains the idea and how you can participate too.
*******
I have lost two of my Harry Potter book covers, the paper dust jackets that wrap around the book. Once upon a time, they were on the bookshelf, next to the books. But then I had a brilliant idea to move them… somewhere. Except I can't remember where.
And I need them because I was going to display all the books in my new literary kitchen. But I don't want 5 copies to have dust jackets and 2 to be bare.
So I am turning to the collective powers of the Internet. These are the two book jackets I need to replace.
Just the standard, US versions with the Mary GrandPre drawings. Is there anyone reading this from Scholastic (or who knows someone at Scholastic) who would be willing to send me an extra dust jacket? Does it help at all to know that I love Harry Potter so much that I not only own the hardbacks, the paperbacks, and the e-books, but I also walk around the house in my Hogwarts robes?
I hate losing things. I hate not knowing where things are. I end up obsessing about them for hours instead of getting anything accomplished. I'm a little less stressed over these covers because they are replaceable (vs. being a one-of-a-kind object like the sketch pad from a few weeks ago), but that doesn't mean I haven't wasted hours looking to no avail.
What have you recently misplaced? Any odd places where you've found missing objects? And can anyone help me replace these missing book jackets?
*******
Are you also doing #MicroblogMondays? Add your link below. The list will be open until Tuesday morning. Link to the post itself, not your blog URL. (Don't know what that means? Please read the three rules on this post to understand the difference between a permalink to a post and a blog's main URL.) Only personal blogs can be added to the list. I will remove any posts that are connected to businesses or are sponsored posts.