#MicroblogMondays 34: Editing and Authorship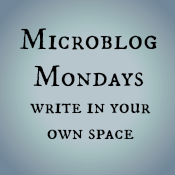 Not sure what #MicroblogMondays is? Read the inaugural post which explains the idea and how you can participate too.
*******
There was an interesting post recently on Mental Floss musing that Laura Ingalls Wilder may not have written the Little House books. Or, she did write a draft of them, but her daughter heavily edited them to the point of rewriting them.
It raises an interesting question: how much editing is too much editing when it comes to designating authorship? If you wrote a book and then I edited it, keeping all of the same ideas but smoothing out the language, is it still your book? What if I changed the order to scenes or rewrote a scene or two to change the motivations of the character? Is that still your book?
The editing process is such a hugely important part of book publishing. I can only self-edit my books so far before I hit a wall and need an outsider's perspective on the project. As an editor, I am always aware of not crossing over a line where my hand is too deeply in someone else's work.
Does it change your feelings about the books if the original books Laura Ingalls wrote looked nothing like the books that ended up in the bookstore?
*******
Are you also doing #MicroblogMondays? Add your link below. The list will be open until Tuesday morning. Link to the post itself, not your blog URL. (Don't know what that means? Please read the three rules on this post to understand the difference between a permalink to a post and a blog's main URL.) Only personal blogs can be added to the list. I will remove any posts that are connected to businesses or are sponsored posts.