#MicroblogMondays 32: Whining About the Complaint/Restraint Project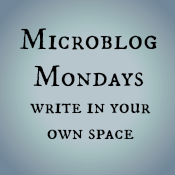 Not sure what #MicroblogMondays is? Read the inaugural post which explains the idea and how you can participate too.
*******
February has come and gone, which means that I missed the first round of the Complaint/Restraint project. It's an Internet project meant to get us complaining less. Apparently we complain about once per minute of conversation. So in a 15 minute conversation, we whine 15 times.
And that's a bad thing?
Yes, yes, yes, we all know that negativity begets negativity and how we need to send positive energy into the universe and the Laws of Attraction and… I get it. But there is something so satisfying about a complaint; about unloading something that has been annoying you. In fact, talking about things you can do nothing about takes back control from the uncontrollable by containing it inside words. So there.
So complain away. What's bothering you this morning? For me, it's people who use their phones while driving, especially the ones who think it's okay to look at their screen because they're driving slowly or because they've reached a red light. GAH!
*******
Are you also doing #MicroblogMondays? Add your link below. The list will be open until Tuesday morning. Link to the post itself, not your blog URL. (Don't know what that means? Please read the three rules on this post to understand the difference between a permalink to a post and a blog's main URL.) Only personal blogs can be added to the list. I will remove any posts that are connected to businesses or are sponsored posts.