Feeling Alone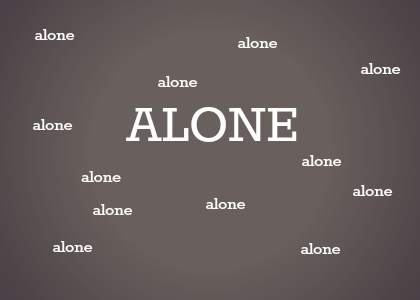 This week is National Infertility Awareness Week (NIAW), and it has been heartening — as it always is — to see so many posts speaking out about infertility.  I'm going to admit that I've been struggling with the theme this year and didn't know if I would write anything.
You are not alone.
It is a wonderful sentiment, and it's one that many groups — from mental illness to Parkinson's disease — recite to their members.
On one hand, it's completely true: you aren't alone.  12% of the child-bearing age population stands with you in the sense that they are going through a similar situation.
And on the other hand, it is clear that people feel alone.  Or maybe they just feel lonely, misunderstood, separate from the other people around them, even if they can rationally count the number of people in the same situation.
It goes back to something we talk about often.  There has never been a time when we have been more "connected" to other people, especially other like-minded, like-situationed people.  Before social media, you were stuck gathering support from the people around you.  If you lived in a small town or an isolated area, you may have never knowingly met another infertile person.
But now, with the Internet, you'd have to stay offline in order to not meet another person going through the same thing you're going through.  Through the magic of Google, you can immediately find other people to share the emotional burden of infertility, trade information, or help craft the questions to ask during your first clinic appointment.
So why, with all this connection, do people feel more alone?
Because that's what I'm seeing on the blogs, though maybe you will disagree because you read other sites.  That often happens: two people, both reading blogs, walk away with two very different understandings of the community.
But my understanding of this community is that, often times, people feel alone in the crowd.  They like that they can meet another person who has also experienced recurrent loss, but they can't help but also feel divided from the person because they've ended up with different endings to their journey.  Or they once felt a part of the community, but now they're parenting and they no longer feel welcome.  Or they are a single parent by choice lesbian who finds a dearth of materials on the mainstream organizations' sites that speak to the non-heterosexual, non-coupled experience because of exclusive language.  Or they can't relate because the other person has mandated insurance coverage whereas they don't have enough money to start treatments.  There are too many sub-groups within the infertility community who state that the general community doesn't understand them.
There are too many posts where people speak about feeling alone.
And I think that is the key here.  How do we make people feel as if they aren't alone?  Because it needs to be more than pointing out numbers.  Of course, you are not alone: there are other patients, doctors, nurses, researchers, social workers, and mental health professionals to help you along the way.  But that doesn't mean that you won't walk away from your interactions with these other patients, doctors, nurses, researchers, social workers, and mental health professionals feeling more isolated than you did prior to the interaction.
We need inclusivity — even as deep as the language we use to discuss infertility — so that people don't feel as if they've been marginalized by their own community.  We need mandated coverage so that the burden of treating infertility is shared by the insurance company as it does for a host of other diseases.  We need more support given to all the stages of treatment and beyond so that people don't feel as if they've been shunted out of their community.
You aren't alone.  The key is making people feel as if they aren't alone.  What can we do about that?