#MicroblogMondays 31: Inspirational Quotes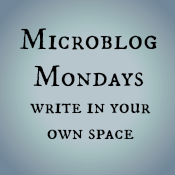 Not sure what #MicroblogMondays is? Read the inaugural post which explains the idea and how you can participate too.
*******
I'll admit that I usually don't read reviews of my books. I'm afraid that doing so will change me. And change is bad. So… I avoid it like an ostrich*.
But I was scrolling past a review the other day and this line caught my eye: "You'll do well in the future so keep going." This stranger managed to say the exact words I needed to hear at the exact time. I'm not ashamed to admit that I wrote out the words on a post-it note and stuck it over my desk. If that person is reading this post, thank you.
Maya Angelou was correct when she said, "I've learned that people will forget what you said, people will forget what you did, but people will never forget how you made them feel." That reviewer's words made me feel grounded.
Two inspirational quotes for the price of one… post.
I do love to surround myself with well-written reminders, the sorts of words that get under your skin exactly when you need them to. So leave your favourite inspirational quote in the comment section.
*I'm aware that ostriches don't actually bury their heads in sand.
*******
Are you also doing #MicroblogMondays? Add your link below. The list will be open until Tuesday morning. Link to the post itself, not your blog URL. (Don't know what that means? Please read the three rules on this post to understand the difference between a permalink to a post and a blog's main URL.) Only personal blogs can be added to the list. I will remove any posts that are connected to businesses or are sponsored posts.