#MicroblogMondays 30: Schrödinger's Problem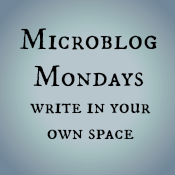 Not sure what #MicroblogMondays is? Read the inaugural post which explains the idea and how you can participate too.
*******
Going hand-in-hand with avoiding dreaded tasks like getting my hair cut are things that I refer to as Schrödinger's problems. While I don't love the dentist or doctor, I'm not scared of the tasks that take place in the office such as a cleaning or Pap smear.
The reason I put off going to the dentist or doctor or any like task is the idea that if I don't go, I won't know about a problem. I'm aware that like Schrödinger's cat being alive or dead whether or not the box is opened, if I don't go to the doctor, the problem still exists. In fact, it could even be worse because I didn't address it in time.
But I put-off tasks that could potentially bring me bad news. If I don't go, I can't receive the bad news. The same thing holds true for social situations where I suspect the person may tell me something I don't want to hear.
Do you avoid things to keep yourself from hearing bad news or do you like to know definitively where things stand?
P.S. Before my mother asks: I have dental and doctor's appointments scheduled.
P.P.S. Before anyone states this, I know this popularization of Schrödinger's thought experiment is a bastardization of his actual statements on superposition.
*******
Are you also doing #MicroblogMondays? Add your link below. The list will be open until Tuesday morning. Link to the post itself, not your blog URL. (Don't know what that means? Please read the three rules on this post to understand the difference between a permalink to a post and a blog's main URL.) Only personal blogs can be added to the list. I will remove any posts that are connected to businesses or are sponsored posts.