#MicroblogMondays 29: Synthetic Babies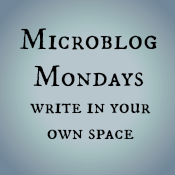 Not sure what #MicroblogMondays is? Read the inaugural post which explains the idea and how you can participate too.
*******
Dolce & Gabbana (who last I checked were two separate people but apparently speak in unison) want you to know that they think your IVF baby is synthetic… like that cheap polyester that unfashionable people wear. Can we pause a moment to allow them to throw up in their collective mouths?
Will I support Elton John's boycott and not wear Dolce & Gabbana? Yes. I will now wear my Superman t-shirts and jeans in protest.
It is hard for me to become irate because two inconsequential people offered up their ridiculous opinion. ("The only family is the traditional one. No chemical offsprings and rented uterus: life has a natural flow, there are things that should not be changed.") It is easier for me to become irate when sentiments like that are expressed by people I need to interact with on a daily basis, or people with a strong platform who have the ability to reach and influence a large group of people. I guess my lack of anger comes from the fact that I don't really see Dolce & Gabbana falling into that last category even though Elton John clearly does.
We all have a responsibility for what we put out in the world, and everyone who has a social media account or a blog technically has a platform. But where is the line between rolling your eyes and clicking away AND addressing something hurtful put into words? How do you determine what idiotic things you ignore and which ones you comment on?
*******
Are you also doing #MicroblogMondays? Add your link below. The list will be open until Tuesday morning. Link to the post itself, not your blog URL. (Don't know what that means? Please read the three rules on this post to understand the difference between a permalink to a post and a blog's main URL.) Only personal blogs can be added to the list. I will remove any posts that are connected to businesses or are sponsored posts.