#MicroblogMondays 28: Dreaded Task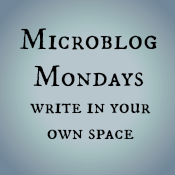 Not sure what #MicroblogMondays is? Read the inaugural post which explains the idea and how you can participate too.
*******
I was recently reminded of why I only get my hair cut once every two years when I took the ChickieNob. The stylist spent the entire haircut trying to convince us to switch shampoos, conditioners, and combs.
It is worse when I go. She tacks on how I need a new hairstyle, how I need to colour my hair, and how I need to change the products I use. I'm sure all these changes would be lovely, but I don't want them and I've made that clear.
This isn't unique to my stylist: the suggestions come from all stylists I've used. And I am also aware that she works on commission and needs to sell me these products or services to supplement her styling income. It's a terrible system because the implied message to the customer is "you do not look good." And that just makes me feel like avoiding her vs. buying a product.
Getting a haircut is a dreaded task up there with sitting in the waiting room at the gynecologist's office (yes, I prefer the Pap smear to sitting amongst the pregnant bellies).
What are your dreaded tasks that you avoid?
*******
Are you also doing #MicroblogMondays? Add your link below. The list will be open until Tuesday morning. Link to the post itself, not your blog URL. (Don't know what that means? Please read the three rules on this post to understand the difference between a permalink to a post and a blog's main URL.) Only personal blogs can be added to the list. I will remove any posts that are connected to businesses or are sponsored posts.