#MicroblogMondays 27: Clutter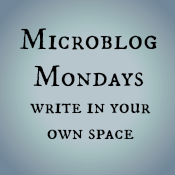 Not sure what #MicroblogMondays is? Read the inaugural post which explains the idea and how you can participate too.
*******
I save too much stuff. It's time for a massive decluttering. I need to go through the drawers, go through the cabinets, clear out the storage room. I need to admit that oversized sweaters from the 80s are not going to have a renaissance. And I don't need to save all the back issues of Mental Floss.
Part of the problem with my clutter is that it isn't really sentimental in nature. There aren't, let's say, a lot of tchotchkes. My clutter is of the "could be useful" variety. I can convince myself to save anything with a well-intentioned what if. What if I need glasses cleaner one day? What if someone visits our house with a baby and needs a booster seat? What if I'm in a crazy situation where we need 12 travel mugs at the same time?
I'm prepared.
The other problem is that I hate to waste things, and throwing perfectly useful items into a landfill feels like waste. It also feels like a waste of money if I end up needing to buy the item again.
We have a wonderful donation solution a few blocks away — a thrift shop that will take anything from kitchen stuff to baby bottles. I'm going to do it, but it's hard to get rid of things. To trust that we have no need for them anymore.
Are the things you save more emotional or "what if" in nature?
*******
Are you also doing #MicroblogMondays? Add your link below. The list will be open until Tuesday morning. Link to the post itself, not your blog URL. (Don't know what that means? Please read the three rules on this post to understand the difference between a permalink to a post and a blog's main URL.) Only personal blogs can be added to the list. I will remove any posts that are connected to businesses or are sponsored posts.