#MicroblogMondays 26: Repetition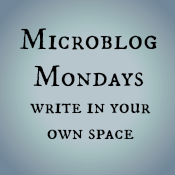 Not sure what #MicroblogMondays is? Read the inaugural post which explains the idea and how you can participate too.
*******
There were a few things in the Rosie Project that hit close to home. One was a thought on page 173 about repetition: "I settled on Jackson Browne's Running on Empty. With the repeat button on, it became the soundtrack to my driving and reflections over three days. Unlike many people, I am very comfortable with repetition. It was probably fortunate that I was driving alone."
I love repetition. I love repetition so much that it takes a lot for me to try something new. Back in graduate school, I had one audio cassette from Bob Dylan's Biograph, and that was all I played for several years. It ran on a 90 minute loop. No one wanted me to drive because they were so sick of "Lay Lady Lay." It was a big deal (to me) when, in my final year, I sometimes played the second tape of Biograph.
I am the type of person who would be fine eating one food, reading one book, watching one movie, or listening to one album for the rest of her life.
Are you good with repetition, or do you always need the thrill of something new?
*******
Are you also doing #MicroblogMondays? Add your link below. The list will be open until Tuesday morning. Link to the post itself, not your blog URL. (Don't know what that means? Please read the three rules on this post to understand the difference between a permalink to a post and a blog's main URL.) Only personal blogs can be added to the list. I will remove any posts that are connected to businesses or are sponsored posts.