#MicroblogMondays 25: What's That Smell?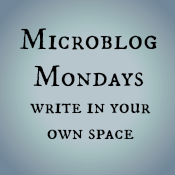 Not sure what #MicroblogMondays is? Read the inaugural post which explains the idea and how you can participate too.
*******
Bad smells: any and all perfume, lavender, vanilla, chamomile, flowers.
Good smells: bleach, my detergent, my soap, bookstores.
Can you tell that I just had to spend time in a too warm space with a person wearing too much perfume? I should not be able to smell someone else's perfume if my nose isn't pressed up near their body.
I wish I lived back in pre-Industrial Europe when it was fashionable to carry around a scented handkerchief and press your face in it when you passed ill-scented matter on the street.
My handkerchief would be soaked in bleach (and would likely kill me, as a result). And barring that, I would take lemon.
What are your favourite (and least favourite) smells?
*******
Are you also doing #MicroblogMondays? Add your link below. The list will be open until Tuesday morning. Link to the post itself, not your blog URL. (Don't know what that means? Please read the three rules on this post to understand the difference between a permalink to a post and a blog's main URL.) Only personal blogs can be added to the list. I will remove any posts that are connected to businesses or are sponsored posts.