#MicroblogMondays 24: Quidditch!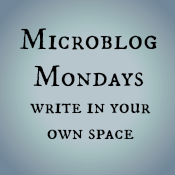 Not sure what #MicroblogMondays is? Read the inaugural post which explains the idea and how you can participate too.
*******
On April 11th, just a little over two months away, they're going to be livestreaming the Quidditch World Cup. Am I going to be watching? Yes, I'm going to be watching. Wearing my Ravenclaw robes.
A few months after that, the twins turn 11. They aren't awaiting their owls as much as they were a few years ago. Sometimes I wonder how I would feel if it were real, if they got an acceptance letter to a magical boarding school. Would I send them? Would I mourn losing those years that I hadn't counted on losing? I mean, it's one thing if you're a magical family; you know it could happen. But if you're a Muggle, wouldn't it be shocking and a tad upsetting to think that this child that you thought would be at home with you is suddenly far away, at a castle in Scotland, and you can only see them during winter break and the summer months?
While we all say we want to go to Hogwarts, would you really have wanted to leave home at 11 and go to boarding school unexpectedly? I don't know if I would. And I would really miss the twins if they got their letter.
*******
Are you also doing #MicroblogMondays? Add your link below. The list will be open until Tuesday morning. Link to the post itself, not your blog URL. (Don't know what that means? Please read the three rules on this post to understand the difference between a permalink to a post and a blog's main URL.) Only personal blogs can be added to the list. I will remove any posts that are connected to businesses or are sponsored posts.