#MicroblogMondays 22: Onion Goggles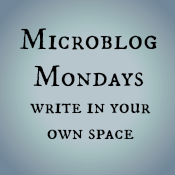 Not sure what #MicroblogMondays is? Read the inaugural post which explains the idea and how you can participate too.
*******
When I need to cut a lot of onions… like more than two onions… I wear a snorkel mask. I skip the snorkel and just wear the goggles which cover half my face. They're really tight so they leave a mark on my face when I take them off. But that is preferable to having tears rolling down my face as I try not to slice my finger off with the onions.
It works.
I also use this Lifehacker tip to rethread a drawstring. I clip the string onto the ballpoint pen and then slide the pen through the hole, dragging the string with it. The drawstring is back in place in seconds.
I love hearing other people's clever work-arounds, mostly so I can borrow them. So what are your clever tricks?
*******
Are you also doing #MicroblogMondays? Add your link below. The list will be open until Tuesday morning. Link to the post itself, not your blog URL. (Don't know what that means? Please read the three rules on this post to understand the difference between a permalink to a post and a blog's main URL.) Only personal blogs can be added to the list. I will remove any posts that are connected to businesses or are sponsored posts.