#MicroblogMondays 21: Internal Clock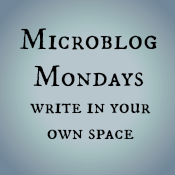 Not sure what #MicroblogMondays is? Read the inaugural post which explains the idea and how you can participate too.
*******
The Atlantic had an article last week about individual internal clocks, and how we're not all programmed to be productive between 9 and 5. I mean, yes, most people are good waking up in the morning and going to sleep at night, in the same way that the average body temperature is 98.6.
The article is about Delayed Sleep Phase Syndrome (DSPS), which afflicts 1 in 750 people, causing them to be nocturnal. I'm certainly not nocturnal, but my natural body clock doesn't start winding down until well after midnight (as in I'm productive at 2 am) and I don't feel like I truly wake up until about 1 pm. If the rest of the world wasn't up and productive in the morning, I would shift my day to fit my natural clock. But since the rest of the world expects me to be awake during the day, I painfully drag myself out of bed at 6:30 am (though I usually don't get to sleep until after midnight).
How is your natural body clock set? Skewed towards waking up early and going to bed early, or are you more of a night owl?
*******
Are you also doing #MicroblogMondays? Add your link below. The list will be open until Tuesday morning. Link to the post itself, not your blog URL. (Don't know what that means? Please read the three rules on this post to understand the difference between a permalink to a post and a blog's main URL.) Only personal blogs can be added to the list. I will remove any posts that are connected to businesses or are sponsored posts.