#MicroblogMondays 20: Learn Something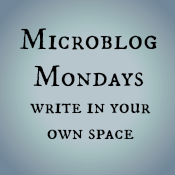 Not sure what #MicroblogMondays is? Read the inaugural post which explains the idea and how you can participate too.
*******
Back in college, retirees used to come in the summer and audit classes as part of an elderhostel. I told myself that when I was older, I would go spend time at colleges around the world and learn new things just for the sake of learning them.
And I still plan to do that, but there is this huge sea of time between the end of graduate school and the start of my retirement, and I've been trying to fill it. While I don't have the time right now to go to a local college and take a class, I am deeply interested in things like Coursera that allow you to take college classes from afar.
I'm currently devoting this year to learning a new computer language.
What would you want to learn if you had the time and guidance?
*******
Are you also doing #MicroblogMondays? Add your link below. The list will be open until Tuesday morning. Link to the post itself, not your blog URL. (Don't know what that means? Please read the three rules on this post to understand the difference between a permalink to a post and a blog's main URL.) Only personal blogs can be added to the list. I will remove any posts that are connected to businesses or are sponsored posts.