#MicroblogMondays 19: Caught in a Good Book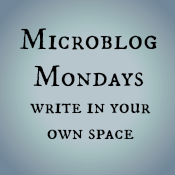 Not sure what #MicroblogMondays is? Read the inaugural post which explains the idea and how you can participate too.
*******
I'm now on the second book in Lev Grossman's Magicians series. I started reading it because I was working on creating an interactive fiction game about witchcraft and Josh suggested it. And while I'm still working on the game and love the world I've created, I am equally in love with Grossman's world.
So much so that I can't get close enough to it. If I were a cat, I would be rubbing my cheek against the world's leg. I want that magical world to be a sleeping bag I can crawl inside, soft and comforting and warm.
This certainly isn't the first time this has happened. The first time was Alice's Adventures in Wonderland. The second time was Phantom Tollbooth, but that book equally made me want to create my own worlds. I've felt this way about Jasper Fforde's worlds, and Tolkien's Middle Earth, and certainly Harry Potter. But every time I find a new one, it makes me so happy.
What book (or movie or television) world would you like to crawl inside? (Knowing, of course, that you couldn't get hurt by stray orcs or unforgivable curses.)
*******
Are you also doing #MicroblogMondays? Add your link below. The list will be open until Tuesday morning. Link to the post itself, not your blog URL. (Don't know what that means? Please read the three rules on this post to understand the difference between a permalink to a post and a blog's main URL.) Only personal blogs can be added to the list. I will remove any posts that are connected to businesses or are sponsored posts.