#MicroblogMondays 18: Resolution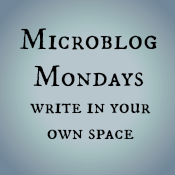 Not sure what #MicroblogMondays is? Read the inaugural post which explains the idea and how you can participate too.
*******
Someone (not Albert Einstein) said the definition of insanity is "doing the same thing over and over again and expecting different results." So we all must be insane because every year about this time, we reflect on our life and make up resolutions; goals for the new year.
And then not fulfill those goals over the next 365 days.
So I'm proposing something else. State your resolution below. But also peruse the list and see if there are any resolutions you can help someone else reach. Know what they want to learn? Give them some tips to get started. Have a great piece of advice that helped you reach the same resolution in the past? Pass it their way. Consider it crowdsourcing the springboard to get your resolution going.
My resolutions are to become a professional game-maker by the end of 2015, and to restart eating well and get back to my target weight.
What about you? What are your resolutions?
*******
Are you also doing #MicroblogMondays? Add your link below. The list will be open until Tuesday morning. Link to the post itself, not your blog URL. (Don't know what that means? Please read the three rules on this post to understand the difference between a permalink to a post and a blog's main URL.) Only personal blogs can be added to the list. I will remove any posts that are connected to businesses or are sponsored posts.