#MicroblogMondays 17: First Date Selfie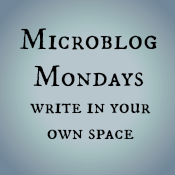 Not sure what #MicroblogMondays is? Read the inaugural post which explains the idea and how you can participate too.
*******
Apparently, first date selfies are a "thing." As in, kids today are taking a picture together on their first date and posting it to Instagram with the tag #firstdateselfie.
It took me many months to work up the courage to take a picture with Josh. I mean, taking a picture together — that was serious shit. You didn't just take a picture with someone you had just started dating. Telling someone that you wanted a picture of them meant something. It meant you wanted to show your friends what the person looked like. It meant you wanted to look at a picture of them when you were apart.
I mean, I wanted a picture on the first date, but I would have never had the guts to take a picture.
The technology certainly existed back then — I had a point-and-shoot camera with film in my purse at all times — but I would have never had the guts to suggest taking a picture together on our first date.
What about you? I think we would all want the picture in retrospect, but would you have the courage to ask to take one?
*******
Are you also doing #MicroblogMondays? Add your link below. The list will be open until Tuesday morning. Link to the post itself, not your blog URL. (Don't know what that means? Please read the three rules on this post to understand the difference between a permalink to a post and a blog's main URL.) Only personal blogs can be added to the list. I will remove any posts that are connected to businesses or are sponsored posts.