#MicroblogMondays 16: Give or Receive?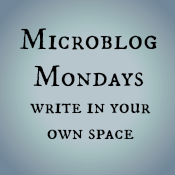 Not sure what #MicroblogMondays is? Read the inaugural post which explains the idea and how you can participate too.
*******
An interesting breakdown in holiday commercials is how many show a person receiving something they want (I've been good all year and now I get a car!) and how many show someone giving the perfect gift (I know you so well that I got you the perfect necklace!). My completely unscientific count shows more commercials of people happily giving than ecstatically receiving. Though I think if we were all brutally honest, we'd admit that it's sort of more fun to receive. It makes me wonder what the psychology is behind the advertisements: what makes people buy more items if they see people happily giving than happily receiving?
Don't get me wrong: it's fun to give, but how many people choose to do a community service project to celebrate their birthday (other than Josh) and how many people want to sit back and be pampered and get presents?
So here's the scenario (and be honest): would you rather host a blog giveaway for a really great item that you don't own and know you made someone else really happy, or would you rather win the giveaway and get to keep that item forever? Me? I think right now that I'd want to win more than I'd want to host.
*******
Are you also doing #MicroblogMondays? Add your link below. The list will be open until Tuesday morning. Link to the post itself, not your blog URL. (Don't know what that means? Please read the three rules on this post to understand the difference between a permalink to a post and a blog's main URL.) Only personal blogs can be added to the list. I will remove any posts that are connected to businesses or are sponsored posts.