#MicroblogMondays 15: Favourite Colours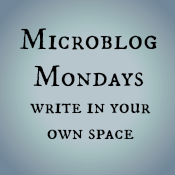 Not sure what #MicroblogMondays is? Read the inaugural post which explains the idea and how you can participate too.
*******
I'm not really surprised with my score on the colour test because I already knew that colour affects me deeply. I'm aware this will make me sound like the narrator of The Rosie Project, but I use a straw in my iced coffee every morning, and I have to choose very carefully because the colour of the straw affects me for the rest of the day. For instance, I can only write if I'm using a blue or red straw, and only those shades of blue or red that come in that box. The blue is hex code 3399CC and the red is hex code CC0000.
Yes… I know how this makes me sound.
There are colours that make me happy such as CC6633 and others that fill me with dread such as CCFF99.
So peruse the colour picker and let me know one colour that affects you emotionally: makes you happy, sad, fearful, etc.
P.S. The Wolvog and I like to whisper hex codes to each other, just luxuriating in the idea of various shades.
*******
Are you also doing #MicroblogMondays? Add your link below. The list will be open until Tuesday morning. Link to the post itself, not your blog URL. (Don't know what that means? Please read the three rules on this post to understand the difference between a permalink to a post and a blog's main URL.) Only personal blogs can be added to the list. I will remove any posts that are connected to businesses or are sponsored posts.