#MicroblogMondays 14: Best Words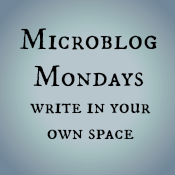 Not sure what #MicroblogMondays is? Read the inaugural post which explains the idea and how you can participate too.
*******
I have a Mallen Streak — a two-inch shock of white in the front of my hair a la Rogue in X-Men. (Or the Bride of Frankenstein, though Rogue sounds a bit cooler.) I don't love it, but I don't know what I want to do with it so for the time being, I'm leaving it.
What I do love is that it has a name. That we have a word for a strange clump of white hair that inexplicably forms (Mallen Streak) or the space between two letters (kern) or giving someone a loving look (belgard). For every word that doesn't exist though we wish it did, there are thousands upon thousands of cool words that have fallen into disuse.
So teach us a cool word or your favourite word, even if you think it may be a common one that everyone knows. Sometimes we just need to hear it again to remember to use it.
*******
Are you also doing #MicroblogMondays? Add your link below. The list will be open until Tuesday morning. Link to the post itself, not your blog URL. (Don't know what that means? Please read the three rules on this post to understand the difference between a permalink to a post and a blog's main URL.) Only personal blogs can be added to the list. I will remove any posts that are connected to businesses or are sponsored posts.