#MicroblogMondays 13: Keep or Toss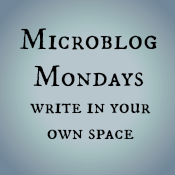 Not sure what #MicroblogMondays is? Read the inaugural post which explains the idea and how you can participate too.
*******
Lifehacker had a timely (for me) article on how to decide whether to keep or part with sentimental items. You ask yourself whether you'd buy it again at full price, if the object has happy memories associated with it, of if you'd still want it if someone you disliked gave it to you. All fine questions, though I'd personally never use them to cull out the mess in my storage room.
It was timely because I had reason to go through three boxes of old papers this week — stuff from high school until graduate school. Old stories, autograph pages that were supposed to go in yearbooks, letters, notes that friends passed me in the hall, photographs. None of Lifehacker's questions obviously applied to those papers.
If Lifehacker showed up at my house and told me I could only keep ten things, those three boxes of paper would make the cut. As would photographs of the twins. The family tree. The most important things to me seem to be made out of paper. What tangible objects would you save if Lifehacker told you that you had to clean up your storage spaces?
*******
Are you also doing #MicroblogMondays? Add your link below. The list will be open until Tuesday morning. Link to the post itself, not your blog URL. (Don't know what that means? Please read the three rules on this post to understand the difference between a permalink to a post and a blog's main URL.) Only personal blogs can be added to the list. I will remove any posts that are connected to businesses or are sponsored posts.