#MicroblogMondays 12: The First Time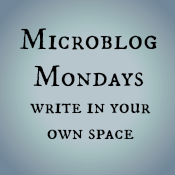 Not sure what #MicroblogMondays is? Read the inaugural post which explains the idea and how you can participate too.
*******
The twins and I are nearing the end of their first time reading the Harry Potter books. We're taking a break before book 7 to slow things down, and reading Philip Pullman's Golden Compass series in the meantime.
A friend recently lamented that he had just finished a Neil Gaiman book and how brokenhearted he felt that he would never have the experience of reading that book for the first time again. Sure, there will be the subsequent re-readings, but nothing compares to how you feel reading a book that you love for the very first time. When you lose that particular-book virginity. (Luckily, unlike your real virginity, you get to become a virgin again with each new book. And no STDs!)
What book are you happy you read but sad that you'll never again get to have a first-read experience of that book? (Even if you know that it gets better and better with each read.) Mine are obviously Harry Potter. The first-reads for those books are sacred, hence why I'm reading them to the kids.
*******
Are you also doing #MicroblogMondays? Add your link below. The list will be open until Tuesday morning. Link to the post itself, not your blog URL. (Don't know what that means? Please read the three rules on this post to understand the difference between a permalink to a post and a blog's main URL.) Only personal blogs can be added to the list. I will remove any posts that are connected to businesses or are sponsored posts.