#MicroblogMondays 11: Missing Childhood Items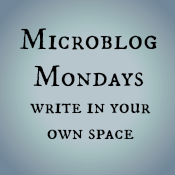 Not sure what #MicroblogMondays is? Read the inaugural post which explains the idea and how you can participate too.
*******
Last week, the kids and I were talking, and via this very convoluted path which included a discussion of Keith Haring and the Pop Shop, I mentioned address books.
"What's an address book?" the ChickieNob asked.
WTF? Do you realize that kids today don't know what an address book is? Their only reference point is the contacts app on their parent's phone. They have no clue that we used to have paper books — usually with a hard cover — that we bought in museum shops and filled with the address and telephone numbers of our friends and family. And if we wanted to make a phone call, we had to drag that sucker out and flip to the correct page using the gradational tabs on the side to jump to the correct place in the alphabet.
What else from your childhood will kids never know about?
*******
Are you also doing #MicroblogMondays? Add your link below. The list will be open until Tuesday morning. Link to the post itself, not your blog URL. (Don't know what that means? Please read the three rules on this post to understand the difference between a permalink to a post and a blog's main URL.) Only personal blogs can be added to the list. I will remove any posts that are connected to businesses or are sponsored posts.