#MicroblogMondays 10: Where Are You Online?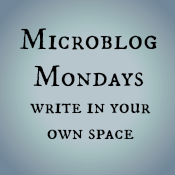 Not sure what #MicroblogMondays is? Read the inaugural post which explains the idea and how you can participate too.
*******
A friend was complaining about their drop in blog traffic over the years. It made me think about how back in college (which was pre-cell phone), if people wanted to find me during non-class hours, I'd likely be at home, at the literary magazine office, at this one coffeehouse, at work, or at my art lab. So you may have to jog around to five sites, but you'd find me in time. Hint: start at the coffeehouse.
Today, if you want to find me online, the best place to check is my blog. After that, BlogHer. I'm sometimes on Facebook. Sometimes on Twitter. Sometimes on Ello. Almost never anywhere else. Let me know if you disagree, but I'm going to guess that if you wanted to check if I were alive, the first place you would look is if there was a new blog post here, correct? As a result, my blog traffic has been fairly consistent. It ebbs and flows with the seasonal shifts, but overall, it's been pretty steady.
So think about it for a second: if I was coming to look for you online, where should I go first? Where are you online, for the most part?
*******
Are you also doing #MicroblogMondays? Add your link below. The list will be open until Tuesday morning. Link to the post itself, not your blog URL. (Don't know what that means? Please read the three rules on this post to understand the difference between a permalink to a post and a blog's main URL.) Only personal blogs can be added to the list. I will remove any posts that are connected to businesses or are sponsored posts.