Don't Starve the Good Bloggers
This post is not meant to point a finger of blame.  This post is only meant to make you think.  To talk about that uncomfortable thing called low comments… or no comments… or low blog traffic… or no blog traffic… or that general feeling of frustration when your hard work or emotions are met with what you perceive as indifference.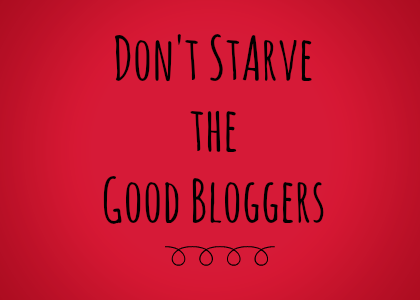 Okay, I had one last follow up to discussing where you are on the Internet after I read Tiara's comment.  We need to own that we all play a role in the life of a blog.  Writers and readers.
Comments and readership fill a space.  You have all certainly made me write more.  If I know you're going to be here, I'm going to show up here too.
But the opposite is true as well, if we stop going to a space or if we don't comment, we inadvertently send a message and play a role in that person perhaps deciding not to write.  Which is not to say that I am assigning blame or fault: everyone needs to own their own actions and if someone decides to stop blogging, they have made that choice, no one else.  There is nothing stopping a person from coming back and writing because they love to write, even if they're not getting other things they want from their space.
But we also can't minimize the weight of our actions in not reading if we're going to celebrate our actions in reading and commenting.  I've read so many posts of people explaining why they love blogging and the comfort they've received, and I've written those posts myself.  But if we recognize that as a truth, we also have to understand what our (inadvertent) withholding of those things does too.  It sends a message.  Do they end up thinking their words aren't interesting enough or their project isn't needed?
There is a balance.  People need to be realistic and know that there are many many reasons why someone reads or doesn't read (or comments or doesn't comment) on a post.  I'm not assigning blame.  But we also can't pretend that we only have a positive impact on other people's blogging experience.  We also sometimes have a negative impact, inadvertently.  We affect people with our inaction as much as we do with our engagement.  Maybe more so since like all negative things, inaction weighs more than action just as hurtful words weigh more than kind ones.
And it's a strange weight that calls to mind that famous Elie Wiesel quote that "the opposite of love isn't hate, it's indifference."  It is harder to write something and get no response than to write something and get an angry response.  Okay, maybe not on an individual, post-by-post basis, but overall, I think most of us would rather deal with anger from time to time than to deal with day after day after day after day after day of silence.
We have a saying on the Internet: Don't feed the trolls!  Don't give the trolls attention.
But we don't equally have the opposite sentiment being used to instruct our Internet behaviour: Don't starve the good bloggers.
If we're not using up precious Internet time interacting with people who write inflammatory posts, why don't we use that saved time to dedicate it to supporting a kind blogger that we want to have stick around?  If we're not feeding the trolls, why don't we instead feed one or two kind, thoughtful bloggers per day, giving them a comment or our attention?  Make a post go viral out of love instead of indignation.
Just as a restaurant closes if customers stop coming in for meals, there are blogs that close because the readers dry up.  While we don't have a responsibility to read everyone who decides to write, we do need to be mindful that we run the risk of losing that person's writing when we don't read or comment.
People need to own the decision to write or not write their blog; you can't place that burden on the readers' shoulders.  You aren't owed your blog to be read just because you write it.  But as readers, we do need to own that we play a role.  Not in the sense that we need to apologize for our actions or explain them to anyone.  We all know that everyone's time is limited.  One person can't save the blogosphere.  But we can step forward into the Internet noting which blogs are important to us and doing everything we can without driving ourselves crazy to make sure those blogs stick around.