#MicroblogMondays 9: Seance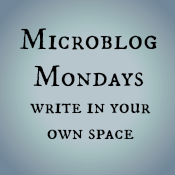 Not sure what #MicroblogMondays is? Read the inaugural post which explains the idea and how you can participate too.
*******
I love reading about Houdini. I was interested in Houdini since I was a kid; even before I learned that he and his wife were infertile and remained childless.
Around this time of year, articles come out about him because for 10 years following his death, his wife, Bess, held a séance to try to contact him. Every year on October 31st, people keep up the tradition for Bess and hold a séance. The largest one is at the Magic Castle in California.
They were a wonderful couple — he often wrote her love letters, even when they were physically together — so it makes sense that they would continue to try to speak after death. I would do the same for Josh. But it made me think about who else I would hold an on-going séance to try to speak to again (or for the first time).
If you could call forth three spirits this Halloween — either people you once knew, people you never got to meet, or famous people — who would you want to speak to at your séance?
*******
Are you also doing #MicroblogMondays? Add your link below. The list will be open until Tuesday morning. Link to the post itself, not your blog URL. (Don't know what that means? Please read the three rules on this post to understand the difference between a permalink to a post and a blog's main URL.) Only personal blogs can be added to the list. I will remove any posts that are connected to businesses or are sponsored posts.