#MicroblogMondays 8: Last Name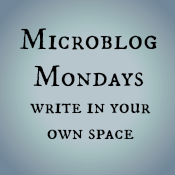 Not sure what #MicroblogMondays is? Read the inaugural post which explains the idea and how you can participate too.
*******
I read a bunch of stories last week concerning Amal Alamuddin taking her husband's last name, as if this was earth-shattering news. For example, The Stir wrote, "She, arguably, has an even more successful and lucrative career than her new husband, but that hasn't stopped newlywed Amal Alamuddin from changing her last name after marriage and becoming Mrs. George Clooney."
Beyond the judgment in the author's word choice (so if you have a high salary, you should keep your name, but if you're a poor, unknown sales clerk, it's understandable if you want to head on down to the social security office?), it made me wonder why anyone is astonished by anyone else's choice of whether or not to change their last name. My friends are a pretty even mix of three options (keep last name, change last name, or create new last name that both people in the marriage use).
If you're married, did you (or your partner) change your last name with marriage? If you're not married, do you know what you would do?
*******
Are you also doing #MicroblogMondays? Add your link below. The list will be open until Tuesday morning. Link to the post itself, not your blog URL. (Don't know what that means? Please read the three rules on this post to understand the difference between a permalink to a post and a blog's main URL.) Only personal blogs can be added to the list. I will remove any posts that are connected to businesses or are sponsored posts.