#MicroblogMondays 7: Who is Scared of a Horror Film?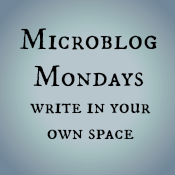 Not sure what #MicroblogMondays is? Read the inaugural post which explains the idea and how you can participate too.
*******
It's Monday the 13th.  Which has no scary significance, except that it is housed in October, and everything is sort of scary in October.
I used to love horror films.  Not just the good ones.  I saw the first 6 Children of the Corn films.  (Yes, there were more than 6.)  The Nightmare on Elm Streets.  The Friday the Thirteenths.  Poltergeist.  Blair Witch Project.  And horror books: everything Stephen King.
And then one day, the world started looking too scary, and I couldn't understand the point in trying to scare myself when there were so many real things to be scared of in the here and now.  And I never saw another horror film.  Though I have a soft spot in my heart for vampires and haunted houses.
Horror films for you: yay or nay?
*******
Are you also doing #MicroblogMondays? Add your link below. The list will be open until Tuesday morning. Link to the post itself, not your blog URL. (Don't know what that means? Please read the three rules on this post to understand the difference between a permalink to a post and a blog's main URL.) Only personal blogs can be added to the list. I will remove any posts that are connected to businesses or are sponsored posts.