#MicroblogMondays 6: Celebrity Crush Edition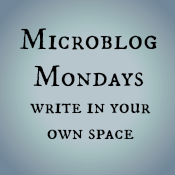 Not sure what #MicroblogMondays is? Read the inaugural post which explains the idea and how you can participate too.
*******
After disgusting my children by saying on three separate occasions that I have a burning crush on Peter Capaldi, the ChickieNob informed me that I wasn't allowed to have a crush on an actor. That in getting married to Daddy, I checked my ability to visually appreciate other humans at the door. So… could I leave the crushes for the young'uns?
I informed her that celebrity crushes are totally okay because (1) there is zero chance of ever even meeting Peter Capaldi and (2) because I wanted to have a celebrity crush so I needed to tell her it was okay in order to have one.
Plus, he's totally cute.
The ChickieNob was not convinced and asked me to stop saying it before every episode because it made her feel bored to keep hearing me say it. ("We know! You have a crush!") But I can say it here, and she can't stop me: I have a crush on Peter Capaldi!
Who is your celebrity crush?
*******
Are you also doing #MicroblogMondays? Add your link below. The list will be open until Tuesday morning. Link to the post itself, not your blog URL. (Don't know what that means? Please read the three rules on this post to understand the difference between a permalink to a post and a blog's main URL.) Only personal blogs can be added to the list. I will remove any posts that are connected to businesses or are sponsored posts.