Facebook Needs to Add Family Accounts
There are a lot of things, apparently, that Facebook must do if they don't want to lose all their users to other social media sites, so if they're keeping a list, I'd like to add one more: family accounts.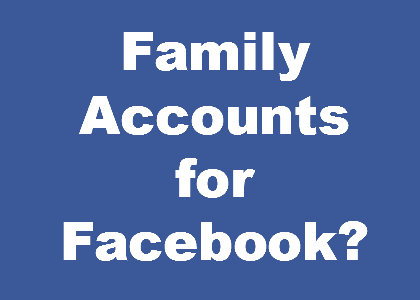 Facebook has personal accounts and public pages, but there are no family accounts.  A family can start a secret group and invite people to join, but that's about it.  Because there is no other outlet on the site, parents share pictures and news about their kids on their personal page, subjecting everyone in their friends list to a blow-by-blow of the t-ball game or ballet recital unless they share those sorts of posts to a select group of friends.
Family pages would fix three problems with one tweak.
I think the obvious one in this community is that Facebook tends to be a painful space for those building their family.  When you just got another negative beta, it's hard to go online and be bombarded with pictures of babies.  Family pages would pull all those updates and photos off the personal pages, so you could be friends with someone and choose whether or not you also subscribe to their family page.
Also, many people don't friend someone because they want to know about their kid.  They friend someone because they want updates about the person they're following.  But directly in conflict with that is that many people state that they use Facebook to keep in touch with family and friends from afar, updating them with news about the family.  People could use their personal accounts for their own news, while sharing family news on the family page.  That way, their co-workers and old high school friends won't have to read family news unless they also friend the separate family account.  Personal pages could go back to being about the person.
Or, really, some people won't need a personal page at all.  If all they want to do is post family news, they could just have a family account.
The last problem that could be fixed is that children enter Facebook without training wheels.  They go from the offline world to the Facebook world without any instruction on how to comport themselves online.  Children learn a lot by observing modeling behaviour, therefore, a family could use the family account to post together for several years before they release children at 13 (or older) to post on their own personal account.  Family accounts could have multiple administrators, and children could learn in a safe(r) space what to post and what not to post before they need to start navigating their own personal page amongst their peers.
Yes, there are sites such as eFamily or Famster, but we all know the problems that arise from having more sites to check.  We simply stop using them after the initial set up (uh… like Ello?).  Making a family account on Facebook meets people where they already are.  We could keep reinventing the wheel, but doesn't it make more sense to focus on making the wheel better?
So Facebook, make your site better.  Hey, you may even keep some teenagers around in the process.
What do you think of separate family accounts?  Would you start one?  Or would it just become another divide: would you rather keep family pics and news in the personal account?