Writing Could Save Your Life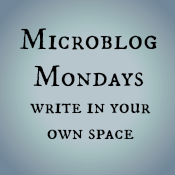 So I'm obviously a complete and utter liar since I said that I would never remind you about #MicroblogMondays again, but really, if you want to blame someone, blame Loribeth because she is the one who sent me this brilliant article.
If you're not going to click over and read it, it basically says that people who write, even a small amount, reap health benefits.
No matter the quality of your prose, the act of writing itself leads to strong physical and mental health benefits, like long-term improvements in mood, stress levels and depressive symptoms. In a 2005 study on the emotional and physical health benefits of expressive writing, researchers found that just 15 to 20 minutes of writing three to five times over the course of the four-month study was enough to make a difference.
I am guessing when they talk about writing for 15 minutes, they do not mean throwing out flippant Facebook status updates.  They're talking about a blog post.  Even a microblog post.
One study found that blogging might trigger dopamine release, similar to the effect from running or listening to music.
So… yeah… it matters to me that you do this.  Not just because I'm a selfish bastard who now looks forward to Mondays because I know I have a solid block of posts to read (vs. the weekends when my feed reader is bare, bare, bare).  I want you to do this because it could impact your overall health and emotional well-being.
Writing could very well save your life.
Tomorrow marks the fourth #MicroblogMonday, and hopefully, by now, it is becoming a habit. (Because I swear, one day I will stop writing these reminder posts!)  Thank you for participating and giving us a tiny glimpse into your world. Even if you don't accomplish another post this week, you at least know that you got up one. And you did it before the week really began.
So at some point between Monday morning and Tuesday morning, post a brief update. It can be as short as 1 word ("blech!") or as long as 8 sentences.  Actually don't get hung up on the length. Micro just means small. Anything you'd post on Twitter or Facebook, or an image you'd post on Instagram… that's all this is.
So… see you tomorrow with your mini post.
And in the meantime, do you feel different emotionally on the days you write vs. the days you don't write?