What is #MicroblogMondays…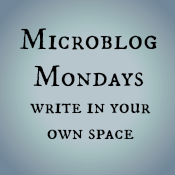 Take back your blog.
MicroblogMondays is a response to the mass exodus from long blogging in your own space to writing status updates on other social media sites.  Instead of writing out posts in their own home on the Web, more and more people are opting to place their brilliant, witty observations or thought-provoking images in someone else's home; namely, Twitter, Facebook, Instagram, and the like.
And while those sites as well as the communities that have sprung up in those spaces are lovely, they don't really fulfill the purpose of blogging in the first place: to plant your flag on the vast surface of the Internet and say, "here I am."  Here, being your own home.  Because while you may have accounts on various social media platforms, you don't actually own your space on Twitter or Facebook or the like.
Please understand: I am not proposing that people stop using other social media sites; only that people make a commitment to microblogging one day per week in their own space.
Yes, I said microblogging.
As in creating a post that is between 1 word to 8 sentences long.
Nothing huge.  No massive time commitment.  Just taking a passing thought, writing it up in a paragraph, and posting it in your own space.  You can promote it on Twitter with the hashtag #microblogmondays, you can mention your post on Facebook, you can let people know on Instagram where to find you one day per week, but you're going to put your words or images on your blog.  And then you're going to come over to Stirrup Queens and look for my weekly MicroblogMondays open thread and add a link to your post.  And peruse other people's posts who have taken back their blogging space and utilized it at least one day per week so that if Facebook, Twitter, or Instagram were to disappear one night, there would still be a place — under your control — that people can find you on the Web.
So what to write about?  Take anything you would have thrown up on Facebook or Twitter or Instagram and place it on your blog.  A passing thought.  What you did over the weekend.  What you're looking forward to during the week.  What you're worried about.  The strangest thing you observed on your way to work.  The funny thing your kid said.  A great picture you took during a hike.  A funny picture you forgot about until you found it while looking for something else.
Anything.  Don't stress this.  Just write.
If you're stuck, you can even scroll through a week of Tweets or Facebook status updates, find one that you think deserves a little more unpacking, and do so on your blog.  Or go look for an image you posted on Instagram and create a complimentary one.
If you've missed your blogging space and want to keep it going in this minimal, basic way (and hopefully you will be inspired to write longer posts on other days of the week by making the commitment to post once a week), here's what to do:
Write a very small post between 1 word and about 8 sentences long.
Put #MicroblogMondays in the title or use the image at the top of this post (just right-click to save it to your computer and then upload it to your blog).
Come over here and read my #MicroblogMondays post and add your post URL to the linky box at the bottom of the post.
Read other people's microblogging posts.
Rejoice that you posted at least once this week to your blog, not someone else's space.
No, you don't have to write your post on Monday.  You can write it any other day of the week and schedule it to run on Mondays.
Last three rules:
The linky list closes on Tuesday morning.  You get about 24 hours to add your post.  If you missed this week, just participate next week.  If you're going to be out of town, ask a friend to post your link for you.
Link to the post itself, not your blog URL.  Any non-post URLs will be removed.  Just so you understand, the permalink to this post is https://www.stirrup-queens.com/2014/09/

what-is-microblog-mondays

/.  The main URL for this blog is https://www.stirrup-queens.com.  Only use that first permalink; the one that goes directly to a post.
Only personal blogs can be added to the list.  I will remove any posts that are connected to businesses or are sponsored posts.  You may end up with new readers or traffic to your blog, but the point of this exercise is to connect as individuals with ideas bouncing around in our brains, not to tell people about products or services.
Hope you'll join along every Monday.  You can find all old #MicroblogMonday posts via the category menu on the left sidebar.
Wanted to add that you don't have to confine this activity to Mondays.  I set it at the beginning of the week so you could feel inspired to know you checked off your post per week by Monday morning.  But feel free to microblog in your own space any day of the week.  Or several times per day.  Short posts rock.
*The first MicroblogMondays post will go up in a few hours.  So get microblogging!  Remember, only 1 word to 8 sentences for the whole post.  Everyone has time to write a paragraph!