Tomorrow is #MicroblogMonday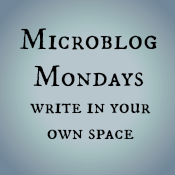 I'm not going to write a post like this every Sunday, but it seemed fitting while trying to start a routine to post something one day ahead of time.  So this is your reminder.  Tomorrow is another #MicroblogMonday.  At some point between Monday morning and Tuesday morning, post a brief update.  It can be as short as 1 word ("blech!") or as long as 8 sentences.
Actually don't get hung up on the length.  Micro just means small.  Anything you'd post on Twitter or Facebook, or an image you'd post on Instagram… that's all this is.
The post serves as a tiny glimpse into your world as the week starts.  Which is all status updates do: just tell us what is happening in your life or how you see the world or something you found amusing.  Hopefully this tiny post will give you momentum to write again later in the week knowing that you've already posted once.  Or maybe not.  Maybe all you need is to do the little check in once per week on your blog.  Whatever you want to do.
And then post a link to your post in the open thread.  Please remember to do that.  I ended up finding a bunch of posts this week that weren't added just because they were in my rss reader.  But if you're going to send your thoughts out there, you might as well add yourself to the thread.  Others finding you, and all of that.
So 26 people participated in the first one, which (1) came without warning — I mean, I posted the intro post and the open thread on the same day, and (2) fell on a holiday weekend in the US.  Hopefully even more will show up tomorrow with a post because they have this 24-hour reminder or because they see it on a friend's blog or because of word-of-mouth or because they made themselves a repeating calender reminder to microblog for five minutes right before they leave for work Monday mornings.
I'll admit that my idea to do this came from a selfish space.  I miss a lot of bloggers.  I miss the bloggers who still post irregularly but spend a lot of time on other social media sites.  I like Twitter and Facebook, but I don't connect with people over there as I do on blogs.  As I told Mali recently, it often feels as if I'm shouting out words as I run past whenever I comment on anything over on those social media sites.  The status updates come and go quickly.  I can't keep up.
Here's the other thing: I'll glimpse an update and not really understand the context, so I don't comment for fear of saying the wrong thing because I don't know the scope of the person's words.  For instance, they'll say, "problems at work."  Is the proper response, "Again?  I'm so sorry."  Or is it, "Oh no!  What happened?"  On a blog, I would likely know if the person had been having on-going problems.  On Twitter, not so much unless I caught all their other tweets on the topic.  And I don't.  I can't.  But on a blog, I can scroll back for a moment and refresh my brain.  I can jump into a new story and read some background.  I can read the words when I have time to sit down and concentrate.
Plus, I discovered that little posts pack an emotional punch.  I think we're so accustomed to seeing long posts (like this one!) on a blog, that we forget how much we can do with a few words.  And I like the idea of thoughts that would otherwise be lost because they don't warrant a long unpacking seeing the light of day because they're a perfect nugget for a microblog.
So… That's why I started this.  It was emotional to see some old bloggers peek out of their blogs again.  If this brings a handful of people back to their blogging space once a week, I'll see it as a huge success.  I'm not asking for anyone to let go of any of those other social media sites.  Just please make a brief status update from your own home on the Web.
Thank you in advance to everyone who participates tomorrow.  And if you didn't get a chance to see last week's open thread, peruse the participants below: