#MicroblogMondays 4: Wish I Was There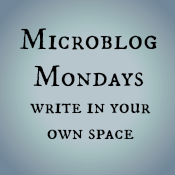 Not sure what #MicroblogMondays is? Read the inaugural post which explains the idea and how you can participate too.
*******
I am reading Lev Grossman's The Magicians, and I have to read it slowly because it sort of hurts my heart.  I want it to be true.  I want there to really be a magic college called Brakebills.  And I want to go to Brakebills.  And I want to meet Quentin.  And I just really really really want to be there so badly that sometimes I need to put the book down and curl up in a ball and wish instead of read.
The last time I felt this way was with Harry Potter.  And before that, Life of Pi. (I didn't actually care if the rest of the book came true, but I desperately wanted to see the island with the meerkats, and it hurt my heart to not be able to go to the island of the meerkats.)
So what good book have you read lately?  Something so good that it affected your whole mood?
*******
Are you also doing #MicroblogMondays? Add your link below. The list will be open until Tuesday morning. Link to the post itself, not your blog URL. (Don't know what that means? Please read the three rules on this post to understand the difference between a permalink to a post and a blog's main URL.) Only personal blogs can be added to the list. I will remove any posts that are connected to businesses or are sponsored posts.