#MicroblogMondays 3: Makes Me Happy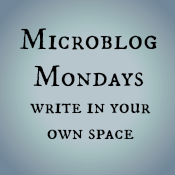 Not sure what #MicroblogMondays is? Read the inaugural post which explains the idea and how you can participate too.
*******
We watch Doctor Who every Saturday night, and Sunday morning, I go on the blogs and see what other people thought of the episode.  I tend to read other people who love the show as much as I do.
Last week, I ventured into the comments on a post, which was a mistake.  The people were tearing apart the episode, pointing out what they thought were unrealistic aspects of the plot.  (Uh… do these people realize that Time Lords don't exist?  And the Tardis isn't real?  Fiiiiiiiiiiiction.)
I don't want to pick Doctor Who apart.  For me, the show is successful simply because it makes me happy.  Doctor Who makes me happy for a full hour.  To me, that is the mark of success: did you change one person's mood for the better?  Yes?  Then your creation is a success.
So rather than complain about something, tell me what makes you happy?
*******
Are you also doing #MicroblogMondays? Add your link below. The list will be open until Tuesday morning. Link to the post itself, not your blog URL. (Don't know what that means? Please read the three rules on this post to understand the difference between a permalink to a post and a blog's main URL.) Only personal blogs can be added to the list. I will remove any posts that are connected to businesses or are sponsored posts.
This week's list is closed.  But come back next Monday for a new list: