#MicroblogMondays 2: Dye My Hair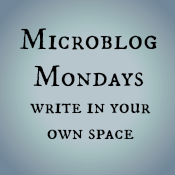 Not sure what #MicroblogMondays is? Read the inaugural post which explains the idea and how you can participate too.
*******
I was walking with a woman I barely know when she said, "Did you know that your hair is two colours?"  I nodded.  She continued, "One colour is brown.  And the other is grey."
"Yes," I responded.
"Did you know that there is dye that can make all your hair brown?"
"Yes," I said.  "I know about dye."
She nodded.  "Some people have two colours in their hair.  Brown and blonde.  But that is not you.  You have brown and grey."
We don't really need to debate the rudeness of this exchange.  I'm more commenting on it because I think about the colour of my hair a lot.  There is not one molecule in my body interested in dyeing my hair.  Yet at the same time, every single molecule in my body wants my hair to be back to brown.  My molecules fight a lot.
I would never think like this if it wasn't conveyed to women my age that we should dye our hair, that is makes us look old or different from our peers if we don't.
*******
Are you also doing #MicroblogMondays? Add your link below. The list will be open until Tuesday morning. Link to the post itself, not your blog URL. (Don't know what that means? Please read the three rules on this post to understand the difference between a permalink to a post and a blog's main URL.) Only personal blogs can be added to the list. I will remove any posts that are connected to businesses or are sponsored posts.
This week's list is closed.  But come back next Monday for a new list: