#MicroblogMondays 1: Ishiguro for Chickens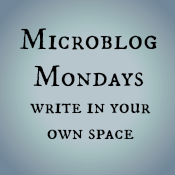 Not sure what #MicroblogMondays is?  Read the inaugural post which explains the idea and how you can participate too.
*******
Back on May 12th, I made myself a note that reads: "Ishiguro for chickens."
That's it.
Ishiguro for chickens.
I have no clue what this means now, though it's intriguing.  Was I considering a situation for chickens where they were treated well just to be slaughtered?  Do I want Ishiguro to write books specifically for chickens?  Or about chickens?  Sometimes I wish I could remember what I was thinking when I wrote down these cryptic notes, but sometimes it's more interesting to find them and not understand.
*******
Are you also doing #MicroblogMondays? Add your link below. For this first time, the list will be open until Wednesday morning. (Normally, it will close on Tuesdays.)  Link to the post itself, not your blog URL. (Don't know what that means?  Please read the three rules on this post to understand the difference between a permalink to a post and a blog's main URL.) Only personal blogs can be added to the list.  I will remove any posts that are connected to businesses or are sponsored posts.
This week's list is closed.  But come back on Monday for a new list: