The Act of Wanting
I recently read Rainbow Rowell's Landline, a cute book about a woman who discovers she can talk to her husband in the past via a phone in her mother's house,  and she uses it to try to repair their marriage.  Midway through the book, her husband comments that he's bad at wanting things.  In other words, he usually has no clue what he wants, and sort of stumbles through life with only a loose sense of goals.
The main character replies that she is great at wanting things, so they'll make a good pair.  Wanting things is one of her strengths.  "I'm extra good at wanting things.  I want things until I feel sort of sick about them.  I want enough for two normal people, at least." (That was on page 147, in case you're playing at home.)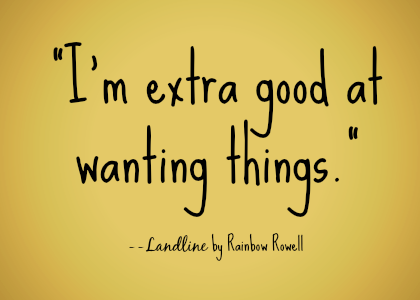 She then goes on to list all the things she wants in the moment, big and small.  Some of which are completely realistic and within her reach ("I want to write") and some that may be impossible ("I want to join The Kids in the Hall") and some which are material ("I want a Crayola Caddy") and others intangible ("I want to be actively, thoughtfully happy"): a huge assortment of immediate and long term goals.
If we're dividing up the world into two categories — the wanters and the non-wanters — I am firmly in the category of wanter.  I want things.  I also want things until I feel sort of sick about them, whether they are small, tangible items such as books or larger goals such as owning a beach apartment.  I know what I want and I become consumed by what I want.  Every single time.
Though multiply my normal wanting levels when it comes to family building because there's also a biological impulse adding fuel to the fire.
I've always considered myself a skilled wanter because I actually enjoy it when I get what I want.  There are people who want intensely, but then are disappointed when they get what they want.  Or they say, "this wasn't what I expected at all."  And I like to think of myself as skilled as a wanter because I don't get that unwanted side effect that sometimes comes from intense wanting.  Where the reality can never live up to the fantasy.  Being a wanter, therefore, works for me.  I want, I get, I love it, I'm happy.
But the other side, of course, is I want, I don't get, I'm sad.
There are times when I can shake off the disappointment that comes from wanting and not getting.  But most of the time, the wanting consumes me until I get tunnel vision trying to reach the goal.  And in some ways, that can be a good thing if it drives me to keep trying and get what I want by staying indefinitely in the game. (Or, in some cases, continuously adjusting towards a new goal so I ultimately can fulfill the original want, just in a different way.)
But what do you do if you're a wanter and you never get what you're wanting?
In that case, it seems like the happier road is the zen approach to not-wanting.  In that case, it feels like a proof for the four noble truths in Buddhism.  That getting rid of desire also gets rid of anxiety and disappointment.  If dukkha comes out of a craving, then the answer is to stop craving.  To stop wanting.
The non-wanters win.
I kept teetering back and forth on the subject of wanting as I read this chapter; whether wanting so intensely serves me or holds me back.
I didn't come to a final answer.
But I sure want one.