Show Up and Write
This is what I do.
I show up.
Even when I don't feel like writing, I sit down and write.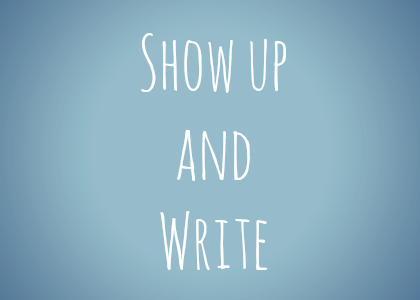 It may not sound very profound… probably because it's not… but sometimes I still need to remind myself to do it because I am a human being and get caught up in all the things that stop me from showing up.
If I let myself, I could distract myself indefinitely.
*******
This is what stops me from showing up:
Waiting for people to arrive to read before I've written something worth reading.
Worrying that not enough people are reading what I've written and therefore wondering if it's worth writing more.
Feeling insecure about what I've written.
Feeling good about what I've written but wondering why my writing is not getting the response that someone else's writing is getting, and therefore returning to what is the point if I can't get that response.
Checking email or social media or other people's blogs.  Harvard Business Review is correct in that this is an insane way to exist and expect to be productive and get work accomplished: "Suppose each time you ran low on an item in your kitchen—olive oil, bananas, napkins—your instinctive response was to drop everything and race to the store. How much time would you lose? How much money would you squander on gas? What would happen to your productivity?  We all recognize the inefficiency of this approach. And yet surprisingly, we often work in ways that are equally wasteful."
All those things, if I don't hold them at bay, stop me from showing up.  Because they all make me doubt myself or waste energy in comparisons or wonder the point.
Here's the point of writing: to take something out of my head and put it down on the page.  To tell myself a story.  To create a character or plotline that holds my interest.  To make sense of my thoughts.
None of those reasons contain anyone else except myself.
And that's important for me to remember because I cannot control whether anyone publishes my books.  I can't control whether anyone reads my posts.  I can't do anything except show up and hope that what I have to say resonates with someone else.
So I show up.
I sit down and open a blank blog post screen or bring up my manuscript on the computer.
That's how I get myself to sit down, day after day, and write.  Even on days when my brain tells me that dedicating my time to writing makes no sense.